A group of young people from Papua New Guinea are currently studying at Liahona High School in Tonga.
Scholarships offered by The Church of Jesus Christ of Latter-day Saints are providing a way for 32 teenagers to attend school in preparation for further studies and other opportunities.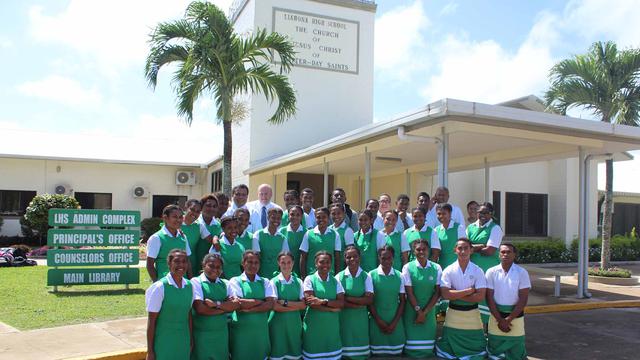 According to Latter-day Saint leader, Elder Robert Dudfield, "This will assist them as they seek to earn a living, help their families, and serve in their church congregations and wider communities."
Though they miss their families back home, the students expressed appreciation for the opportunity the Church has provided for them to improve their lives and work towards brighter futures.
"It is a great blessing for us to be at Liahona," one student said. Other comments included: "We are learning so much here;" and, "I am so grateful for the opportunity I have to be here."
School students participate in rigorous academic and technical programs, daily religion classes, English language learning, and important social and leadership opportunities. 
Elder Dudfield and Samoan leader, Elder Meliula Fata, recently visited the school. They met with 26 of the PNG students during the school lunch break.
This year Liahona High School will say farewell to 202 graduates including six of the PNG students. The school assists graduates in applying to university. One of last year's graduates, Papua New Guinean Kathy Omae, is currently attending Brigham Young University—Hawaii. 
"The reason I felt so passionate about wanting to visit the Liahona school to visit these students," Elder Dudfield said, "was based on the fact that I have just been assigned as the Area Seventy to Papua New Guinea. I wanted to go out to meet them, introduce myself and to let them know how much the Lord loves them."
He added: "We appreciate the sacrifice they are making, including being away from family and loved ones, to be able to further their education, provide potential opportunities to serve future missions, and to strengthen the Church and their communities back home in Papua New Guinea."
There are more than 1,200 students from 10 nations enrolled in Latter-day Saint schools throughout the Pacific region.