A missionary from Papua New Guinea is gaining valuable leadership experience while serving a mission in Australia for The Church of Jesus Christ of Latter-day Saints. 
Sister Fidelish Metta from Port Moresby and her companion, Sister Jaz Mikaele-Pali from Hawaii, serve as sister training leaders in the Australia Sydney North Mission. Female Mormon missionaries are referred to as "Sister."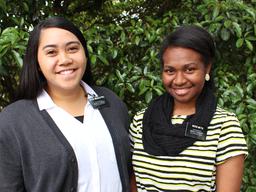 Sister training leaders provide weekly training and leadership to several missionaries, providing guidance on areas such as teaching, time management, health, finance and other life skills.  

Sister training leaders also participate in a mission leadership council every month with their male counterparts and mission president Max Checketts and his wife, Donna. 
President Checketts enthusiastically described Sister Metta and Sister Pali as "absolutely powerful and very effective."
President Checketts also explained, "In the past, training [of sister missionaries] was the responsibility of the wife of the mission president, but these newly-called sisters have stepped up to the leadership role and are a great asset to the mission." 

Both sisters plan to attend universities after their missions. Sister Metta at Pacific Adventist University in Port Moresby and Sister Pali at BYU-Hawaii, a Church-owned university on Oahu.
Sister Metta and Sister Pali are part of a worldwide force of 85,000 Latter-day Saint missionaries who learn valuable leadership skills while serving for 18 months to two years.
They then return to their home countries to contribute to the Church and the community. Approximately 40 percent of the missionaries are women, who can begin their missionary service as early as age 19.