Six young women from Papua New Guinea (PNG) serving as full-time missionaries in the Fiji Suva Mission of The Church of Jesus Christ of Latter-day Saints volunteered as tour guides during a recent public open house of the Suva Fiji Temple.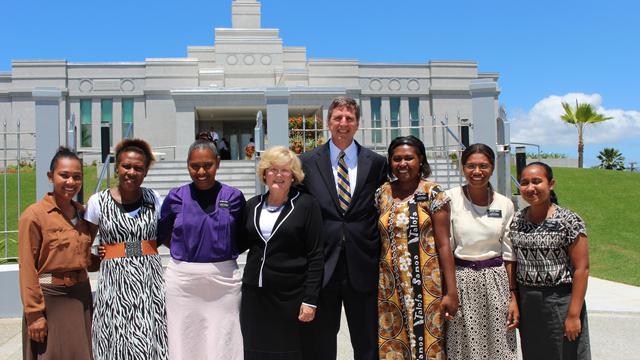 The young people are all serving 18 month
missions
in Fiji, hel
piing individuals and families by teaching the gospel of Jesus Christ and serving communities in other ways.
"it is a great blessing for me and my PNG sister missionaries to participate in this activity and help the Fijian people here,"  said Sister Julia Aula Kesa from Port Moresby who assists the mission president Lamar L. Layton, and his wife Lynnette Layton in training and assisting other missionaries.
The opportunity to host guests at the temple was too good to miss for these young people who do not have a Latter-day Saint Temple in their homeland of Papua New Guinea.
"Every temple is special"  exclaimed Sister Kesa. 
There are 150 Mormon temples worldwide. Normally only members of The Church of Jesus Christ of Latter-day Saints in good standing enter these sacred edifices where the gospel of Jesus Christ is taught and family relationships are strengthened.
Latter-day Saint meetinghouses, of which there are thousands around the world, are used for Sunday worship services. Members of the Church and visitors are welcome to attend these services.
The Suva Fiji Temple was originally opened to the public and then dedicated in 2000. Due to major renovations undertaken over the last year, the temple has been re-opened to the public ahead of a re-dedication which will take place on 21 February 2016.
During the temple open house period in January, the Papua New Guinean missionaries met Elder Kevin W. Pearson, president of the Church's Pacific Area, and his wife, June Pearson.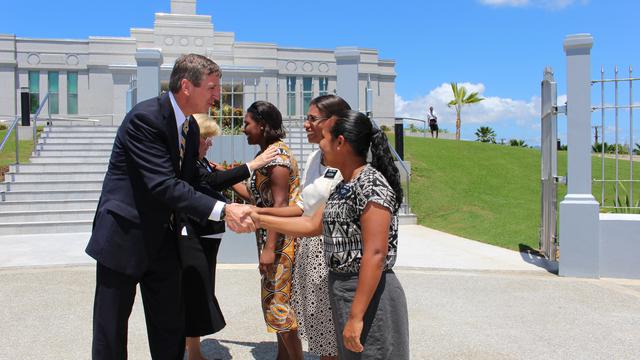 The Pearsons thanked the young people for their service to God and the people of Fiji. They encouraged them to complete their missionary service, marry in the temple and be great teachers and leaders in the Church and in their communities.
The Suva Fiji Temple serves more than 35,000 Latter-day Saints in Fiji, Vanuatu, Kiribati and Solomon Islands.  
During the three-week event over 22,000 visitors viewed the temple grounds and the interior, including Fiji Prime Minister J.V. Bainimararama.
For more information on temples, click here.