Elder Robert J. Dudfield, Area Seventy in The Church of Jesus Christ of Latter-day Saints, Brother Douglas D. Holmes, First Counselor in the Church's general Young Men presidency, and Brother Tad R. Callister, general Sunday School president, are visiting Papua New Guinea this week.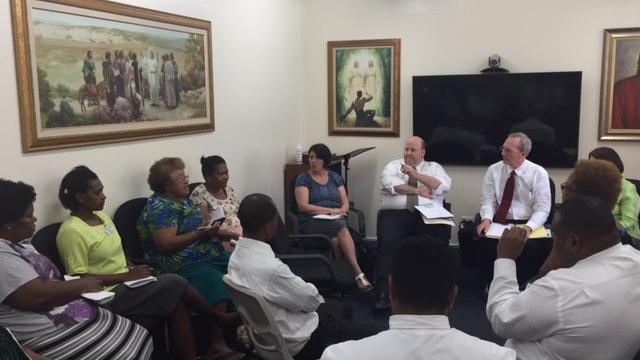 Elder Dudfield is being accompanied by his wife, Sister Darice Dudfield; Brother Holmes is traveling with his wife, Sister Erin Holmes; and Brother Callister is traveling with his wife, Sister Kathryn Callister.
The leaders and their wives are meeting with Papua New Guinean Latter-day Saint leaders, members and missionaries this week.
Elder Dudfield told those in attendance in one meeting, "We hear the voice of the Lord through His inspired servants. As we receive promptings from the Holy Ghost and act on those impressions we will see the hand of the Lord revealed in our lives."
"Learning the doctrine of Christ helps us understand our divine potential," Brother Holmes said.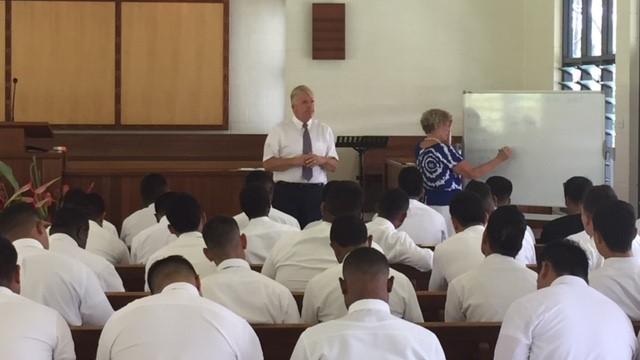 He shared ideas for helping youth increase their faith in Jesus Christ.
Brother Callister said, "The plan of salvation is Heavenly Father's plan of happiness for all of His children."
He spoke about ways to help people, especially youth and young adults, to learn and live the gospel of Jesus Christ.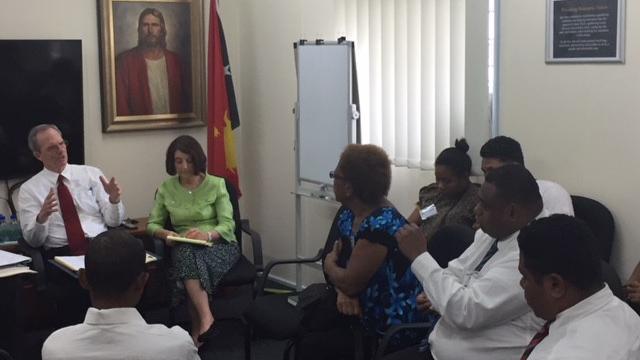 Read more about the Church's resources and efforts to assist young people develop their faith and succeed in their educational and other life pursuits.
Learn more about the Latter-day Saints' young men program.
Learn more about the Church's Sunday School program.