Seven Papua New Guinean young men from The Church of Jesus Christ of Latter-day Saints recently completed two years serving as full-time missionaries. But before they returned to their homes in various parts of the country, they were privileged to attend self-reliance education workshops to help them prepare for future.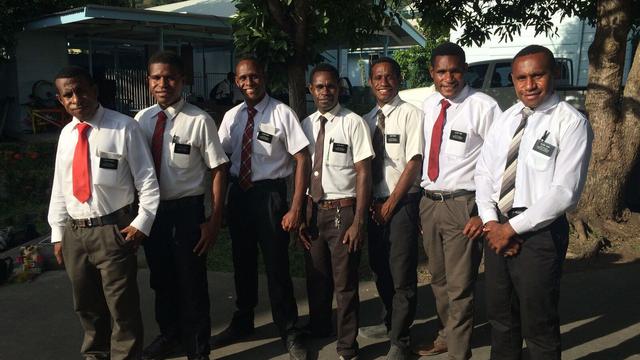 (L to R) Esron Micheal, Derrick Atakie, Quinten Kapoi, James Mata, Mannaseh Kema, Kenan Toby, and Simon Kumi 
The young men spent between two to three hours a week over a twelve-week period with Church volunteer education specialists, Elder Tukia I Vavau and Sister Linita Havea from Tonga. These specialists provided training to the missionaries on continuing education, choosing a career, learning to manage a budget, marketing themselves to future employers, time management and other important topics.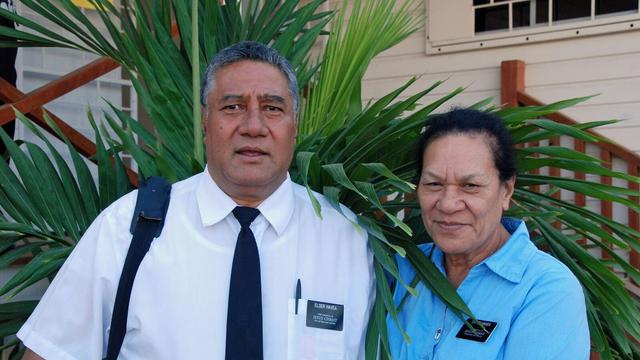 The group felt privileged to have Sister Havea as one of their trainers as she is a retired secondary school principal and has extensive teaching and administrative experience in education. One of the outgoing missionaries, Elder Esron Michael of Wewak in East Sepik province commented, "Elder and Sister Havea really helped us. We watched videos and had many discussions on those topics, and they gave us a picture of what we are trying to do."
The young men were also taught how to lead their group and how to facilitate discussions. Each group member had an opportunity to lead and facilitate, to monitor group progress, and to manage workshop time.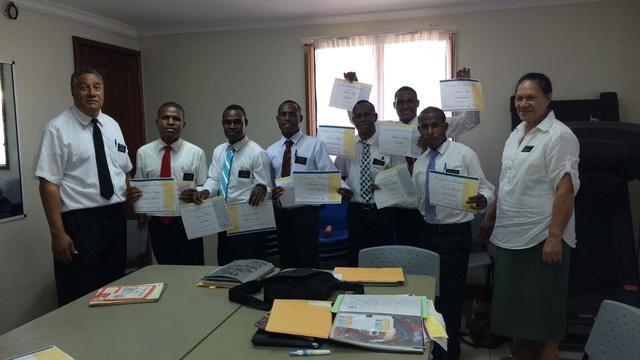 Another young man, Elder Manasseh Kema, also of Wewak, commented that as the first facilitator, he felt the other group members thought that he was teaching them. However, he learned a lot from them, especially when he saw how much they knew.
The young missionaries received certificates of completion for attending all sessions and completing all their assignments.