A young member of The Church of Jesus Christ of Latter-day Saints in Papua New Guinea can now pay her University tuition fees after winning a cash prize in the country's leading musical talent competition, Vocal Fusion.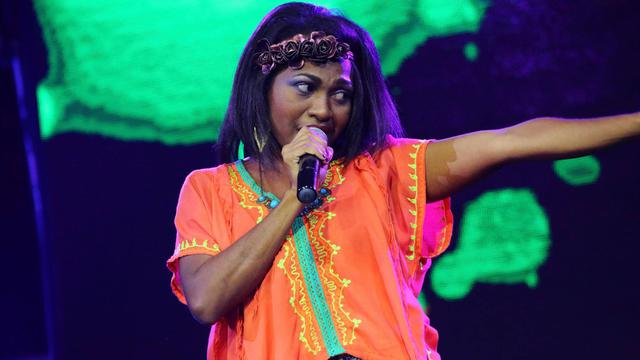 Fidelish Metta, age 23 and known to family and friends as Filly, recently returned home to PNG after eighteen months as a full time missionary in Sydney, Australia.
Filly was one of four finalists who made it through ten weeks of intensive competition on the Vocal Fusion program under the mentorship of PNG artists Jamie Lee and her husband Jagarizza. She captivated both audience and judges with her voice and her style to finish second.
The Vocal Fusion competition has a live TV audience and receives nationwide coverage. The audience is involved by texting their preferred choice of singers through mobile phones and Facebook.
The grand finale took place on June 19. Contestants had to sing two songs each. Vocal Fusion, a musical talent competition organised by Media Niugini Television, started some three years ago. International Jamaican artist Omi, who was the guest judge on the finals night, was certainly wowed by Miss Metta's performance and had nothing but praise for the 23-year-old woman.
The winner of the competition, a young woman from Lae, Morobe province was Tehhila Ben-Oba. Other finalists in the competition included Isaiah Manoa of Alotau, Milne Bay province, and Gregory Bai of Port Moresby.
A total of 40 young Papua New Guineans from around the country originally signed up for the competition which started in April this year. The fourth season will be starting in a few months' time.
Filly, originally of Gulf (PNG) and New Caledonian parentage, was adopted by the Samoan and PNG family of Mr. and Mrs. Moasope McCarthy who live in Port Moresby. 
Next month, Filly will begin classes at Brigham Young University - Hawaii where she has been accepted to study psychology. She acknowledged she has always been interested in studying people's behaviour and hopes to counsel young people and women who are facing challenges in today's world. 
During a phone interview, Filly indicated she was still trying to let the win soak in.  She was busy doing some cleaning at home.She admitted to mixed emotions, saying she was sad that the competition had ended as she had really enjoyed meeting new people and developing friendships with the other singers, the mentors, the judges, and the entire band.
Filly started singing at the tender age of seven, as a student attending Ted Diro Primary School in Port Moresby. She has also been involved in various gigs with various artists such as the Sinking Tribe for the National Rugby League bids as well as Jokema. In 2012, she also participated in the Digicel Stars musical talent competition.
Filly acknowledged thanking her Heavenly Father for the help and guidance that He has provided to her. She also is grateful for the support from her family and friends, especially her grandfather who has been her biggest fan. She also mentioned EMTV and the Vocal Fusion mentors and judges and finally all of her fans. She said that the Gospel has helped to shape her life in a way to be always striving to be positive at all times. 
Watch Vocal Fusion Season 3  Grand Final- Fidelish Metta