The name Siosaia Mateaki is not new to many members of The Church of Jesus Christ of Latter Day Saints in Papua New Guinea, infact, it is a household name that is still remembered today, even 13 years after Mateaki left the shores of PNG.
Siosaia comes from Tonga, and during his last assignment to Papua New Guinea he served in a voluntary capacity as the Mission President of the Papua New Guinea Mission. President Mateaki as he was then known then served from 2000 to 2003 with his first wife Fatai Moemanu Mateaki. Many of the women members of the Church fondly remember the late Sister Mateaki because she left behind with the them the art and skills of quilt making which many of them are still using to this day.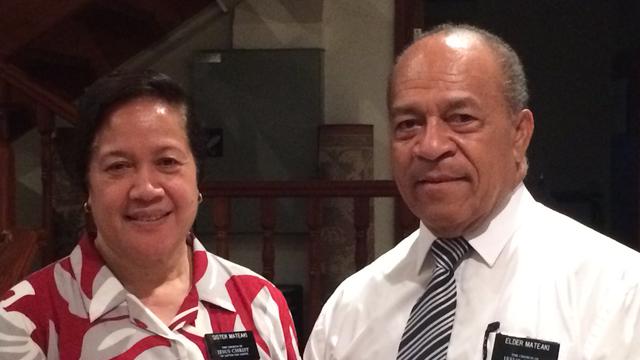 On July 2nd, 2016, it was a warm surprise for some of the old Gerehu members when Elder Mateaki, and his second wife Felisitas attended the Gerehu Branch Sunday meeting. Elder Mateaki is well remembered because it was during his time that the Church experienced significant growth in numbers in Port Moresby and around the country. During his time, Gerehu chapel buildings were refurbished from the small meeting houses to the current meeting houses that can accommodate a large number of people today.
Elder and Sister Mateaki arrived in the country on 25 June 2016. They were originally scheduled to arrive in September 2016, but when President Voi Taeoalii (current Mission President) called them to find out if they could come earlier, they said "We have been ready for a long time. We are ready to come to Papua New Guinea now."
Elder and Sister Mateaki hit the ground running, spending their first week in various training meetings and providing hands-on experience with Self-Reliance and Education programs in Port Moresby, visiting members of the Church in the surrounding area as well as attending Family History and Temple Preparation classes. During their second week they immersed themselves with hundreds of young people of the Church at a special youth conference, teaching them how to draw closer to God through studying the scriptures.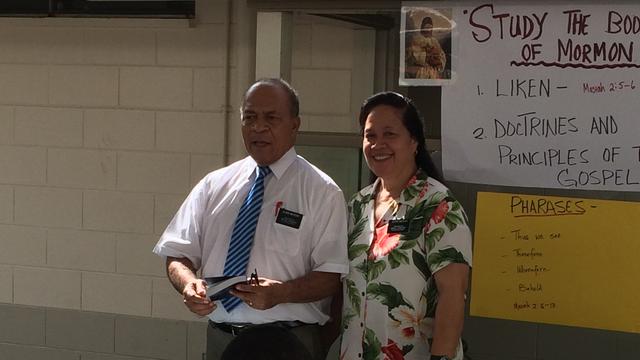 "What a joy [it is] to see how [much] the Church [has grown] in Papua New Guinea since I was last here" stated Elder Mateaki. 
Elder & Sister Mateaki have been assigned to serve in Daru, Western province. They will work alongside local leaders in building and strengthening the Church. Their mission will last from June 2016 to December 2017 a total of 18 months.