What would a former missionary from The Church of Jesus Christ of Latter-day Saints find if they returned to an area they served in more than twenty three years ago? Here is the story from one former missionary, Brother Alan O'Riordan from Australia.
"During the first three months of 1990, as a full-time missionary for The Church of Jesus Christ of Latter-day Saints in the Australia Brisbane Mission, I was transferred to Port Moresby in Papua New Guinea. In those days, PNG was part of that mission, and I was privileged to work in both the Port Moresby and Korobosea Branches.
I hadn't been in the area long before we started to teach the families of two sisters, Hoibi Oimo and Mary Mailau. Hoibi Oimo and her husband, Evara, had seven children, and Mary and Koivi Mailau had three children. The days leading up to and following their baptisms were special for us all, and I always remembered these families and the people I taught there in the short time that I served in PNG before going home.
Due to the difficulties of contacting each other across the seas in the days before mobile phones and Facebook, we quickly lost contact. Over the years, after I was married and my own children were growing up, I often shared the stories of my mission and my time in PNG. I wondered about "my" families in Port Moresby and what had become of them. Were they still there? Were they active in the Church? I prayed for them and wondered if we would ever meet again in this life.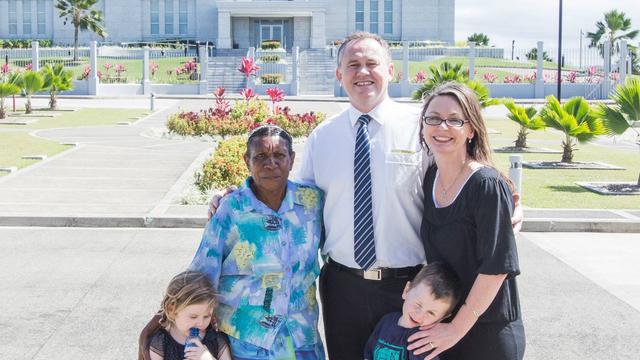 In November 2013, I was blessed to travel back to Port Moresby. We sent word to the Church's service centre ahead of time with the names of my PNG families and others that I had known. They were kind enough to help organise a meeting for anyone that remembered me, and with the help of some old friends there, the word went out.
To my joy, members of both the Evara and Mailau families and others I knew walked through those familiar gates at Gabutu. They were still active in the Church. We shared many tearful embraces and kisses as we met again and discussed what had happened in our lives over the past 23 years.
I was sad to hear that Evara Oimo had passed away, but his sons Morihi and Richard were present with their mother Hoibi. Koivi and Mary Mailau and most of their children were present. I also met Ipai Ako and Andrew Arika and their families, who served with me as missionaries in the Australia Brisbane Mission. It was wonderful so see these faithful saints and returned missionaries still staying the course of the gospel.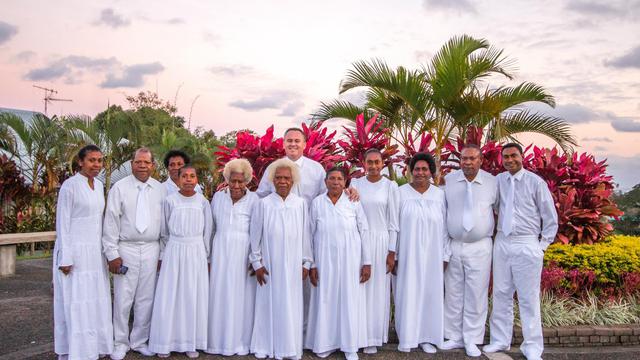 In August, 2014, my wife Yvonne and I again had the absolute pleasure of meeting with some of the faithful PNG saints attending the Fiji Suva Temple, including Hoibi. After another tender reunion, we were able to help her prepare herself and her family history so that she could receive her own temple ordinances. It was my privilege to stand as proxy for my friend Evara in those sacred ordinances, and my heart was full as I knelt at the temple alter in his place, so that he and Hoibi could be sealed together as husband and wife for eternity.
This was one of the sweetest experiences of my life. As one of the missionaries who played a small part in their conversion, I felt truly humbled and blessed. I thought of how our Heavenly Father knows, loves and guides us all individually to moments like these, so that we can return to live with Him and our Saviour Jesus Christ together as families forever.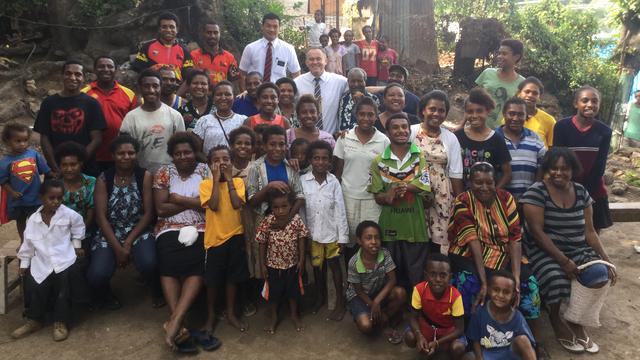 On 24 June, 2016, I was blessed again to return to Port Moresby, this time with my wife Yvonne. As we now had the blessings of mobile phones, and with the help and support of Paul and Olive Whippy, we were able to arrange for almost all of the family members of both the Evara and the Mailau families to be present. This included parents, children, wives, husbands, and grandchildren, numbering more than 40 people. Once again my heart was full as I marvelled at what had become of a small seed planted back in 1990 with two wonderful sisters and their families, who had remained strong and faithful to the best of their abilities.
Tears streamed down my face and the spirit burned in my heart as later I walked those familiar roads with my billum (bag) on my shoulder towards their family homes in Kaugeri settlement with the current full-time missionaries, to meet those family members who were less active or not yet members of the Church. What a blessing it was to sit and teach with the elders and to once again be in the homes of my PNG families and feel the spirit there.
We returned one last time with the full-time missionaries for a tearful goodbye. I hope and pray to hear news that the less active of my families will return and that those spouses and children who have not yet accepted the gospel will come to know its truthfulness and will enter the waters of baptism. I look forward to meeting many more of them at the Holy Temple in future days."