A recent fire in the heart of Port Moresby caused devastation to a number of commercial buildings including the Papindo shop, Johnston's Pharmacy as well as the Jocobi private medical clinic, which is owned by Dr Fa McCarthy,  and managed by his son Moasope McCarthy. Both men serve as  local volunteer leaders in The Church of Jesus Christ of Latter-day Saints.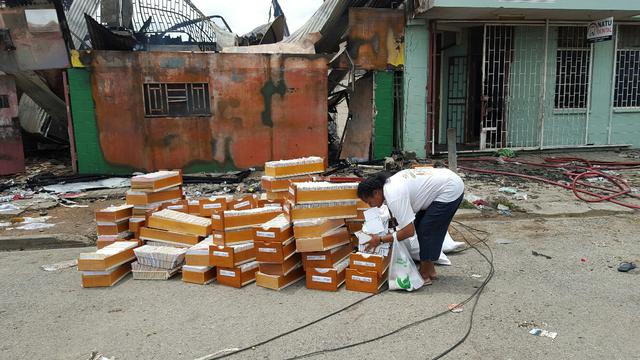 On Thursday evening, the McCarthy family received a call that a fire had burned down a building next to their medical centre. They were assured that the fire brigade and police had controlled the fire.
However, on Friday morning, on their way to work, the family learned the fire had started up again and had burned six other buildings, including their clinic. The Jacobi Medical Centre had been named after the late pioneer medical doctor, Dr Jacobi.
Moasope's immediate thought was to get in and get all the patient records but the fire was too ferocious. The fire had moved rapidly from building to building.
Later when they were finally allowed into the building they were amazed to find even though the outside had been badly burned, everything inside was still intact.
The fact that the clinic was safe and all the patient records were safe was certainly not what they had expected.  The clinic was saved from the fire. Even though the looters had smashed the windows and helped themselves to tables and chairs most things had been saved. A picture of the Saviour which hung on the wall of the reception desk, the patient records and other important files were not burnt.
Later the next day, as Moasope's mother Anna Wissink walked back into the burnt clinic. She remarked, "I walked through the door of Jacobi Medical Centre in Boroko. The facility had been in danger of burning down. The fire had been burning all night and all morning and the businesses, houses and shops surrounding and on top of the Jacobi Medical Clinic had been burned down. My family had been running this facility and providing medical services to a huge number of people for over ten years. My eyes were drawn to the picture of the Savour. What a beautiful picture and what a thoughtful thing for my family to have hung this framed picture in a very visible point of the medical facility above the reception area. My thoughts were, this has been a miracle!"
The family is very thankful the clinic was spared that day. They managed to remove everything they needed to start fresh in a different location. When they do find that location the first thing to be put up in the centre of the clinic will be the picture of Jesus Christ. Anna reflected, "All is well."